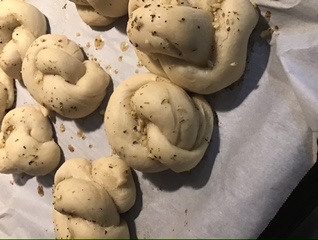 The other day In a bead therapy video, I talked about making some garlic knots. Some people had never heard of them and others just wanted to know the recipe LOL. I am happy to say that I tested out the recipe and these turned out amazing! The recipe comes out of a book called kid chef bakes about Lisa Huff. You start out with a homemade pizza dough and here is the recipe for that:
Ingredients Needed:
2 3/4 to 3 1/4 cups all purpose flour
1 (14oz) envelope active dry yeast
1 teaspoon sugar
1 teaspoon table salt
1 cup of warm water (105-115 degrees f)
3 tablespoons olive oil divided
Flour for dusting the work surface
In a large bowl, add two and three-quarter cups of flour, the yeast, sugar, and salt.
Add the water and 2 tablespoons of olive oil to the bowl. Beat with a stand mixer with a hook attachment or a wooden spoon until the day of forms a soft ball. Mix in additional flour as needed.
Place the dough onto a lightly floured surface and knead until the dough is smooth and elastic, 6 to 8 minutes.
Grease a large bowl with the remaining tablespoon of oil. Add the dough. Turn to coat and cover with plastic wrap. Place in a warm draft free place to double in size approximately one hour.

Garlic Knot Recipe
Butter, for greasing the baking sheet (optional)
1 prepared homemade pizza dough (recipe above)
3-5 small fresh garlic cloves peeled and minced
4 tablespoons unsalted butter melted
1/2 teaspoon table salt
1/2 teaspoon Italian seasoning
1/4 cup finely grated Parmesan Cheese

Preheat the oven to 350 degrees f. Lightly grease a baking sheet or line with parchment paper.
Divide the pizza dough into 12 pieces. Roll each piece into a long rope 8 to 12 inches long. Tie each rope into a knot, then tuck the ends underneath the knot. Place the knots on the prepared baking sheet. Lightly cover the knots with plastic wrap and place in a warm dark draft free place for about half an hour or until risen again.
Bake for 13 to 17 minutes or until very light golden brown.

Meanwhile, in a small bowl, mix together the garlic, melted butter, salt, and Italian seasoning. Brush over the knots then sprinkle the cheese on top. Bake an additional 3 to 5 minutes or until nights are golden brown.
Eat and enjoy!

A note....I didn't add the Parmesan cheese and they still tasted amazing!

Happy Beading and Baking!